I know what you  are thinking so let me break it to you. No Spoilers here and we are not talking about your favorite TV show but believe me this is a real deal,  real winter and real army of invaders waiting for winter to come.
Yes! It is true. Winter is the best time for thieves to sneak into houses while the owners enjoy the heavenly sleep in their cozy bed.  If you are thinking that locking the doors and installing cctv would help then think again. These methods are not effective in preventive protection of your property.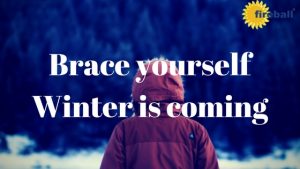 In the words of an Ex-Serviceman, BSF Mr. Mr. Bishweshwar Roy, (Manager – Training-Fireball) "It is not hard for an expert thief to break into your house and as far as cctv is concerned it can not provide you preventive security but only the evidence after the harm is done."
The danger is not just to your property but also to you and your family. So it is important for you to be cautious of your surrounding. Having a well trained security guard who takes your security as his first priority will help in ensuring all round security to you and your property.
So enjoy this winter with no worries. Take specialized security services from fireball and have a good night sleep. As our guards are always their in your protection.
Happy Winters!