Fireball Guards are known to be highly trained and loyal. A security service provider can train their security guards but the sense of loyalty comes from the environment provided by the company. Fireball Securitas never miss the chance to appreciate the good work of it's employees. The concerns of our guards are always addressed with immediate effect which boost their confidence and encourage them to perform their duty without any worry.
Here are few guards who received appreciation and awarded for their valour.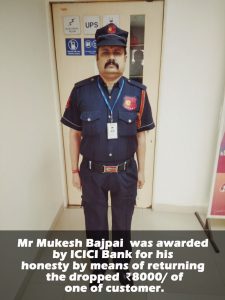 Mr. Mukesh Bajpai was awarded for showing honesty in returning the lost money of a ATM visitor, found by him. It was not a small amount but a sum of Rs. 8000/. Fireball appreciate him for his good work.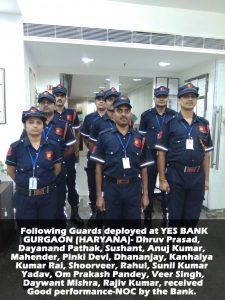 Our 17 guards received good performance-NOC from YES Bank for their excellent performance. The guards are deployed at a yes bank branch in
Gurgaon, haryana. The name of the guards are as follows.
Dhruv Prasad, Dayanand Pathak, Sushant, Anuj Kumar, Mahender, Pinki Devi, Dhananjay, Kanhaiya Kumar Rai, Shhrveer, Rahul, Sunil Kumar Yadav, Om Prakash Pandey, Veer Singh, Daywant Mishra, Rajiv Kumar received good performance – NOC by the Bank.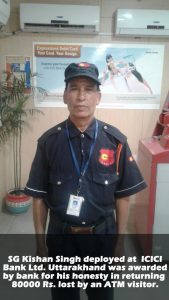 Fireball Guard deployed at ICICI Bank Ltd. Uttarakhand returned 80,000 rupees lost of
an ATM visitor. The guard was appreciated and awarded for his honestly and loyalty.
Mr. Jay Narendar Singh was awarded and appreciated by the YES Bank for his excellent performance on his duty.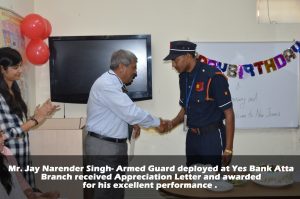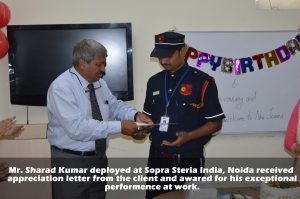 Mr Sharad Kumar deployed at Sopra Steria India  received appreciation letter and awarded for his excellent performance.